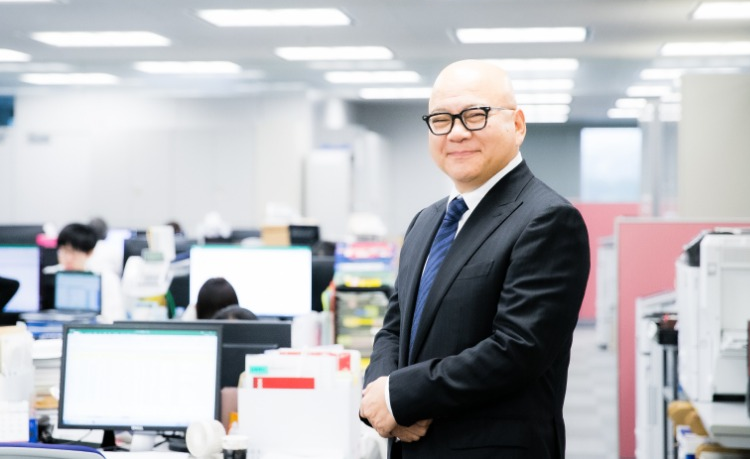 With our unique strengths, we aim to be the world's leading manufacturing solution provider and achieve business expansion and stable revenue.
I believe it is crucial to expand our company scale and to strengthen management resources such as technology development capabilities for striving to be a competent and equal business partner that can propose ideas to our customers before their requests and contribute to the society.
We maximize our three strengths to be the world's leading manufacturing solution provider *.
Our first strength is that we have a deep understanding from customer's management to their manufacturing sites, and strong sales force and field capabilities rooted in the major regions of East Asia. Since 2000, which was our third year of its foundation, we have established overseas bases, and have responded promptly to the shift of businesses and technologies related to flat panel displays (FPDs) overseas. The unique sales network we have cultivated from 2000 until today spreads all over China, where the main production area of FPD, and supports our current business.
Secondly, we make an effort to provide free-thinking innovation that is not bound by existing technologies and business frameworks. I founded V-Technology in 1997 as an inspection equipment manufacturer. We succeeded to develop our manufacturing equipment in 2005, which needs to be operated 24 hours and requires higher reliability. Launching the sales of the new manufacturing equipment was a jumpstart of the new business. Also, we succeeded in the in-house production of color resist material for pixel correction and dedicated dispenser used in our color-filter defect correction device. The materials customized for each client received high praise from them. We can also expect to provide innovations by combining human resources and technology joined by M&A.
Our third strength is the achievements of many successful M&A since 2015. The effects of M&A include expansion of our business scale, entry into different business fields, and expansion of our product lineup in a short period, acceleration of integration of external technologies and internal technologies, an increase of business opportunities after M&A. We believe that M&A is an integral part of our business expansion strategy. We aim to engage in M&A that will produce the best results for our customers and our shareholders.
With these three strengths stated above, we aim to be the world's leading manufacturing solution provider and achieve business expansion and stable revenue.
We appreciate your continued support for V-Technology.
Shigeto Sugimoto
President & CEO
* World's leading manufacturing solution provider: A company that proposes solutions and improve customer value in terms of equipment, materials, and systems, human resources in response to customer manufacturing needs and issues.